-- FOR JJJ Let's Make a Junk Journal --
-- I am starting a brand new Junk Journal just for this swap as my previous and current junk journal contains all of the happy mail I receive and is based on the months in a year.
-- I like vintage-looking items in my Junk Journals. They do not have to be vintage, just the vintage look is fine with me.
-- I love pockets in my Junk Journals for stashing little items in them.
-- I like journaling spaces that are fairly small as I seem to be intimidated by large journal spaces. Does anyone else have that problem?
-- I love flowers, bees, butterflies, birds.
-- I would love any dog ephemera, especially dachshund ephemera. (I'm a bit of a dachshund nut, lol.)
---
I love cross stitch and subscribe to several magazines, even the ones from the UK. So far I have only cross-stitched on Aida 14ct, mainly bookmarks. I like stamps and use them in my art, scrapbooking, and altered books. I love beading and making my own jewelry. I like using seed beads and using different beading techniques like Peyote stitch and brick stitch. I really want to learn to make my own beaded beads if I can just find the time, lol. I do Altered Books and have 4 packed away right now as we moved a few years ago to North Carolina and I'm still trying to slowly unpack. It is difficult now as I am running out of places to put stuff. I really like using washi tape in my artwork. You can never have too much washi tape, lol. I also like doing ATCs in a wide variety of themes.
I am learning to zentangle, working on 3.5 by 3.5 squares and ATCs.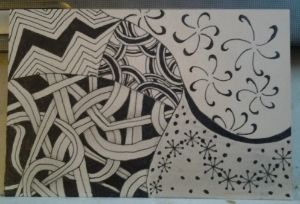 Here is a postcard I did for a swap. I am improving but it is going slow. I would welcome anyone's zentangle. I love making and getting things with flowers, birds, butterflies, or other flying insects such as dragonflies. I love fairies and other fantasy animals such as unicorns. I also love any dachshund images and have a scrapbook for my dog that I put the images in.