2021 Christmas Card swap partners, this year I am going to open all of my Christmas card swaps on Christmas morning. So I ask that you please indicate the swap name on the envie reverse. Thank you in advance🎄🧑🏼‍🎄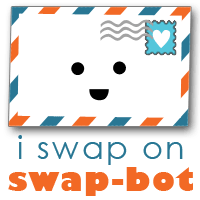 Yay! I am celebrating 5 years here on Swapbot!! It has been my great joy meet so many wonderful partners out there in Swapbot Land! Here's to another 5 more years!!
December 2020, allow me to thank Swap-bot for this group of swappers who have helped me thru this weird year. It has truly been my great blessing to be a part of mailing and receiving encouragement to others.
October 2020, Being quarantined so much, I am REALLY into coloring in the Adult coloring books, so any coloring pages would guarantee you a Heart.
July 2014 I rescued a female Chihuahua that I named Sheeba. She is the delight of my life. I rescued her, but I say she rescued me right back.
June 2014 I have been involved with SB since Feb. 2013. I have enjoyed walking to my mail box each day with great expectations of snail mail. My mailbox does not disappoint. On top of that I hopefully, am also making another's mailbox somewhere around the world a happy place too!
If you're wondering what to write, tell me about something that I have to do/see in your neck of the woods, or tell me which (historical) person you'd like to meet and why!
-OR- you could write me your favorite quote/scripture of encouragement:-)
Since I am an empty nester I tend to spend more me time and SB is my choice of drug. Plastic canvas stitching is my second choice. I also enjoy:
Pocket Letter Pals Cooking--studying my Bible —-ATCs --Zentangles--Zines--Pinterest--crafting--nature
Music of all kinds, except heavy metal and NOT hard rock. I don't like music that you cannot understand the words because they are screaming to sing. I just don't enjoy that.
The sound the wind makes when it is rustling thru the trees or blowing outside. It is music to my ears. ( Many thanx to "seekingjoytoday" psithurism - the sound of wind in the trees and rustling of leaves)
Photography-there aren't too many subject matters that I pass by that I don't stop and take a photo.
I have raised 2 boys who both joined the Army. My children are my world, but when they grow up and move away what then? Well that is exactly what I am trying to figure out. My husband is civil service and prior Air Force. We met in NY, married, lived there 14 yrs. moved to Florida in 95' and then in 98' we moved to Illinois. My husband is retired.
I am an Air Force brat, oldest of 6 kids who live scattered thru out the states. When I was younger I hated moving with Dad's job, but now I am glad for the experience to have lived in Taiwan, Turkey, & several different states.
I have had several jobs mostly in sales and public customer service. When we moved here to IL. I worked as a secretary at a church in the children's dept. 14 yrs., the longest position I've held in one spot. While there I taught preschoolers, elementary, adult Bible studies and a guest speaker at different events. One of my greatest joys in life was teaching and investing in children's lives and watching them grow. I taught 5th graders the timeline of the Bible for 8 yrs. I participated in MANY discipleship events, VBS, Kids Kamp, Sunday school, Creation vs. Evolution, and so many more.
I have the gifts of administration, teaching, hospitality, & service. My personality is a choleric lion.