~~ Cup of Tea ATC ~~
1st in the "Beverage Series"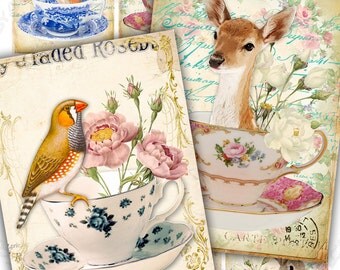 Tea Lovers...Make your partner a lovely Tea Cup ATC
Use at least 5 elements:
the durable backing,

the background

the focus point (tea cup)

the word TEA is required, but you can add other words too

the final details and embellishments
((((( ATCs are 2.5" x 3.5" )))))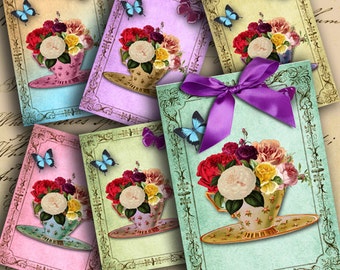 Make it demensional and interesting. Use your imagination! ATC must include a Tea Cup in your design.
Be CREATIVE & Have FUN! =0)
A few ideas: collage, die cuts, stampings... found objects to upcycle such as take-out cardboard cup cozies, stir straws, napkins, tea bag label & string. You can Tea dye paper, seam binding, ribbon, lace and use that in your creation too. Collage, Die Cuts, Ephemera...
Also, include a individually wrapped tea bag for your partner to enjoy!
Check your partners profile for any TEA likes or dislikes
Dont forget to Sign, Date and Title along with swap info on back of the ATC "Cup of Tea ATC #1 in beverage series"
Send your partner a "heart" quality swap and be sure to place ATC in a clear sleeve or mini envie.
Send to your partner on time and decorate the envie pretty for them!
*** Dont forget to rate as soon as you receive your swap***
The qualifications to join this group should remove the worry for getting flaked on... however if needed I will angel this swap ~~~~~~~~~~~~~~~~~~~~~~~~~~~~~~~~~~~~~~~~~~~~~~~